Web Development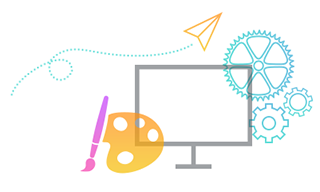 As a web development company, we driven by creating reliable digital solutions. Our websites are world standards compliant and built using search engine friendly code and cutting edge technology. We are dedicated to developing websites that work for you and gets you a positive return.

The first step in developing your company's perfect website is collaboration – once we understand your brand, your goals and your business, we create a design that speaks to them, as well as your clients.

Detail oriented, intuitive web development follows. Over the years, we've established a proven process and gathered an amazing team of talented, young and energetic professionals to help bring your new design to life.
Our Goals
We base our process on open communication, best web development practices, high-quality code and a level of customer support that is unsurpassed in our industry.
We invite our clients into our close-knit company, helping them grasp even the most complex aspect of their site development. The end result: aesthetically pleasing, highly functional, maintainable and long-lasting sites.
Our Skills
Database Application and System Integration
We build custom applications and integrate with third party vendors to seamlessly integrate additional software and advanced levels of functionality into our sites.
Lead Capturing and Custom Forms
Building custom forms, successfully tracking site usage and capturing leads is an essential business tool we incorporate into our web development process.
Mobile and Responsive Development
Guaranteeing your site is user friendly and accessible regardless of viewing device is paramount as we progress further into a mobile era. Our
responsive design
and
mobile web development
flexibility provides this assurance.
Advanced Languages and Frameworks
Utilizing any combination of PHP, Ruby, Java, JavaScript, HTML5, CSS3, MySQL and a range of other languages, frameworks and software to meet even your most complex operating system and database needs.

We take great pride in our process, our collective skill set and our end deliverables. We go through extensive user testing, client consulting and optimization to ensure the product, the site, exceeds both client and user expectations.